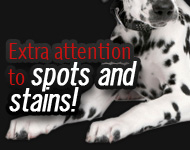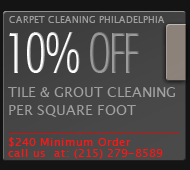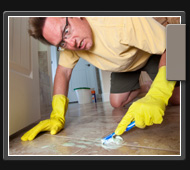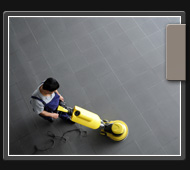 Tile and Grout Cleaning
Carpet Cleaning Philadelphia is proud to offer trained technicians, top-quality equipment, and safe cleaning solutions for your home or business.
First impressions are important. When you enter a room, your eyes unconsciously take in a lot of information - what type of furnishings is used, whether the room is cluttered with furniture or spacious, and whether the decorations add to or detract from the effect. Your floor is the background canvas for these impressions.
Do you remember how beautiful your tile floors looked when they were first installed? The grout color complemented the tile color perfectly. Unfortunately, because they are porous, tile and grout both absorb stains from spills, and darken with moisture collection over time.
These stains quickly lead guests to consider even a freshly cleaned tile floor to be dirty, and for homeowners and business owners alike, this is not a good thing! Restaurant owners in particular should consider what tile and grout look like, as unsightly flooring can decrease a health inspection rating and the likelihood that patrons will return.
Our Services
You don't need to tear it all up and start again. You can simply pick up the phone and call Carpet Cleaning Philadelphia professionals at 215-279-8589.
Travertine limestone and ceramic tile are just a few of the tile choices that, when unsealed, absorb stains and moisture. Our technicians have tons of experience in restoring this tile and tile grout to its beautiful beginning. Unsealed floors can hold more than stains, however; they can absorb mold, dirt particles, and other allergens. Our cleaning solutions, combined with powerful steam cleaners and/or rotary grout cleaning tools, restore your tile and grout to a much more attractive state and remove unwanted stains and particles from the floor.
Power = Effectiveness
Although home owners and business owners can rent steam cleaners from hardware stores, these steam cleaners are not nearly as powerful as those used by professionals.
The power is important, because the more forcefully water is injected into the surface determines how deep it can penetrate, and the suction power determines how much dirt and debris loosened is actually removed.
Therefore, a professional's machine with greater water pressure penetrates below the surface level and can clean the tile and grout much more thoroughly. With flange mounted carbide swivels and rated for use from 600 to 3000 psi, our rotary grout cleaning tool is effective for everything from ceramic and porcelain tile in kitchen floors, bathroom floors to - if you can believe it - concrete garages and sidewalks!
Call Carpet Cleaning Philadelphia at 215-279-8589 for a Free Quote.