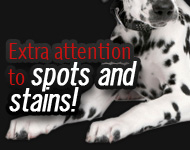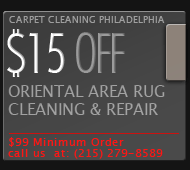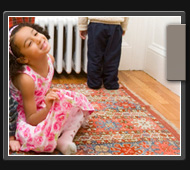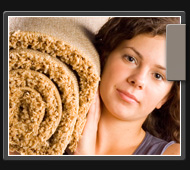 Rug Cleaning
Dust can damage the fibers of your rug, even if it looks clean. Have your rug professionally cleaned once a year to preserve it for many more years of use and beauty. In between cleanings, see our tips for protecting your rug from staining.
Carpet Cleaning Philadelphia offers free pickup and delivery of your rug and specializes in the following in-plant services:
Rug Cleaning

Area Rug Cleaning
Oriental Rug Cleaning

Pet Stains and Odor Removal
Hand Wash
Antique Wash
Domestic or Hand Made Rugs Cleaning and Repair
Our Rug Cleaning Technique:
Modern technology has automated and improved what was once a back-breaking task of cleaning natural fiber wool rugs. To remove dust, you used to have to beat the rug with a carpet beater. This beating would damage and break the fibers, particularly in valuable antique rugs.
Dust Removal
Today, our equipment blows compressed air and removes the dust and particles from the fibers of the rug.
Washing
Color block to prevent bleeding (optional)
Prior to washing the rug, we test a small area of the rug for color bleeding. If necessary, we apply a color block to lock in the color.
Fresh water wash pool
In the washing pool, fresh water passes through the rug while we carefully wash the rug by hand.
Decontamination bath for odor removal (optional)
We remove unpleasant rug odors with a special decontamination bath, safely agitating the fibers to release the odors.
Rinsing
Carpet Cleaning Philadelphia thoroughly rinses the rug to remove any remaining residue from the cleaning processes.
Drying and Finishing
We hang the newly cleaned rug in our climate-controlled drying room. We carefully clean the fringe, restoring color and sheen. Once the rug is completely dry, we tidy and spruce up the fringe and pile of the rug for an even appearance.
Your rug is then wrapped and ready to be returned to you. Carpet Cleaning Philadelphia is happy to help you place the newly cleaned rug in your home upon delivery.