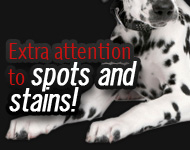 Testimonials
"Just wanted to thank you guys for taking such great care of my carpets. Your technician was polite and quick and offered me a coupon for the next time I need cleaning which I mean to use soon."

"I had some bad experiences with carpet cleaning in the past but when my sister recommended carpet cleaning Philadelphia I knew I had to give you guys a chance and was very happy with the result. Thanks!"

"We scheduled an appointment for 8:00 and when I was out the take the kids to school on 07:45 I saw your truck parked in my driveway and was very pleasantly surprised but then trouble began as my youngest son had a slight fever and did not want to go to school so I asked if we can reschedule and your guys said no problem and called the office and we made another carpet cleaning appointment for the next week and the results were outstanding. Your service and employees are top-notch. Keep up the good work."

"Can't thank you enough. We had some renovations done in our house and the building crew absolutely ruined our antique carpet so me and wife searched the web for the best carpet cleaners out there and found a few recommendations on your service needless to say we were pleased with the result. Our carpet was picked up the next day and was returned after 4 days looking brand new."

"Your spring cleaning prices are the best! I took the full package including the air duct cleaning and upholstery cleaning and was well satisfied!"

All rights reserved. © 2005-2023