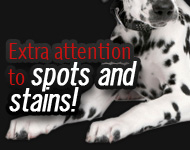 Cleaning Tips
You've made an important investment by putting carpet in your home. Carpet adds warmth and comfort to your environment. There are three simple, but necessary, steps to expert carpet care to keep your investment looking beautiful and lasting a long time.
Regular Carpet Cleaning has a number of benefits that we sometimes forget:
Prompt Clean Up of Spills
The longer you wait to remove accidental spills and spots, the harder they are to remove. In fact, the longer you wait, the more likely they can cause permanent staining.
Periodic Professional Cleaning
Manufacturers require periodic professional cleanings. But, more importantly, when you have your carpets professionally cleaned by CARPETS ETC., you will rid your carpets of contaminants causing aggravating allergies and soils that cause damage to the fibers.
Extend the life of your carpet:
"Have cleaner rugs by rearranging the furniture in your rooms. Most people leave their furniture in one position for the life of the carpeting. The result is that people are sitting in the same spots and walking through the same areas all of the time. By moving your furniture and changing the traffic patterns in your room, you are exposing different parts of your floor to wear. Carpet is often replaced because just a few sections of it have worn out. There will usually be a badly worn traffic path and then sections that look almost brand new. Spread the wear out. Carpeting that wears evenly will last years longer and stay cleaner longer. Something as simple as swapping positions of the couch and the chair can save you hundreds of dollars in replacement costs and may even postpone those frequent visits from your cleaning service."
Never pour cleaning solutions directly onto the carpet, rug, oriental rug, drapery, etc.
Always brush stains lightly to the center of the spot to avoid spreading it.
Keep stains moist until a professional cleaner arrives if possible.
Never use commercial cleaners unless you are sure they will remove the stain because you may "set" it.
Pet odor removal cannot be guaranteed because when moisture is present, bacteria feeds on the urine and causes the odor.
Circulate the air to speed up drying time. If possible, slightly open a window to let in fresh air.
Do not allow children or pets to crawl or walk on cleaned carpet for at least 8-12 hours - preferably longer - until carpet is thoroughly dry.
Do not walk on freshly cleaned carpet for at least 4 hours or more until dry to the touch. Use caution when walking from a wet carpet to a bare floor.
Do not remove aluminum or plastic pieces that have been placed under legs of furniture until carpet is absolutely dry.
Vacuum after carpet is dry and then vacuum on a regular schedule.
Abrasive wear and stains cannot be included in our guarantee.
A "spot" is something present in the carpet that can be broken down and removed from the carpet fibers.
A "stain" is a something that has altered the color or make-up of a fiber and cannot be removed by cleaning.
Carpet Cleaning Philadelphia think that these suggestions will help keep your carpets looking beautiful and fresh for a long time.